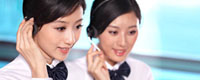 Name: Ivy Yang
Tel: +86 0731 22160466
Fax: +86 0731 22160196
Mobile: +86 18107334899
E-mail: sales@upcarbide.com
E-mail: ivy@upcarbide.com
Add: No.849,Hongqi North Road,ShiFeng District,Zhuzhou City,Hunan Province,China. post code 412000
Skype: ivyyang316
MSN: yangjuan316@hotmail.com
QQ: 2498362811






Product name : 6% Co K10 92hra 28*6*11.3mm Tungsten Carbide Alloy Inserts for Cutting Plastic Button

Product No. : 28*6*11.3mm
Details:
YG6X/K10 92hra Fine Grain 28*5*13.5mm Tungsten Carbide Alloy Tips for Cutting Plastic Button
Specifications
1. Grade: YG6X, ,6% Co,94% WC , Density 14.9g/cm3, Hardness 92HRa. fine grain size.
2. YG8,YG6,YG10,YG15,YG20,YG25,YL10.2,YS2T,YG6X etc all kinds of grades for your choose.
3. Can product customize drawing,sizes and shape.
4. We also can supply carbide rod. such as OD1.6*90mm,OD1.8*90mm,OD2.0*90mm,OD2.1*90mm,OD2.3*90mm etc.
Photos details: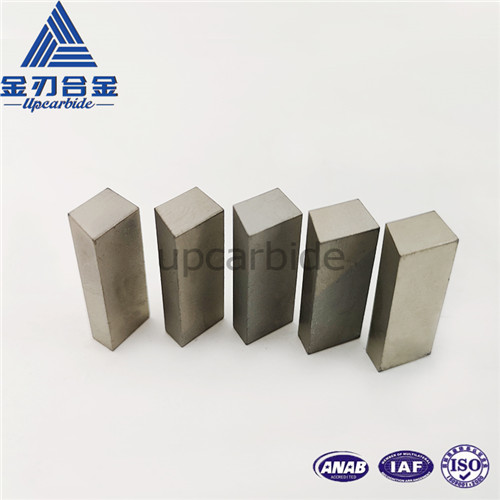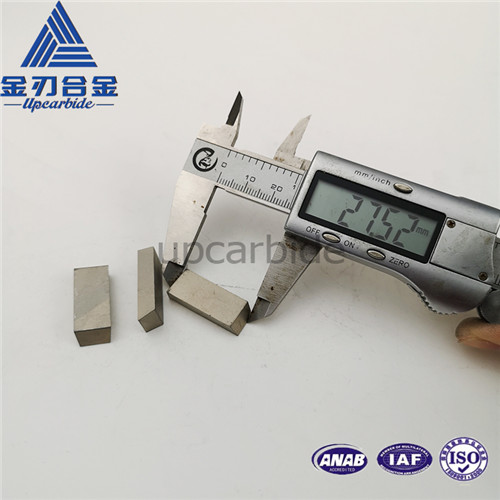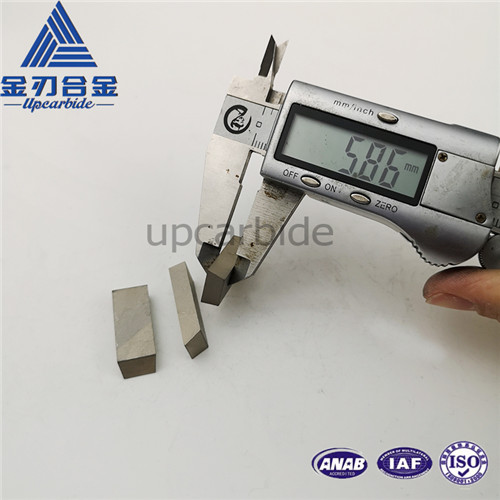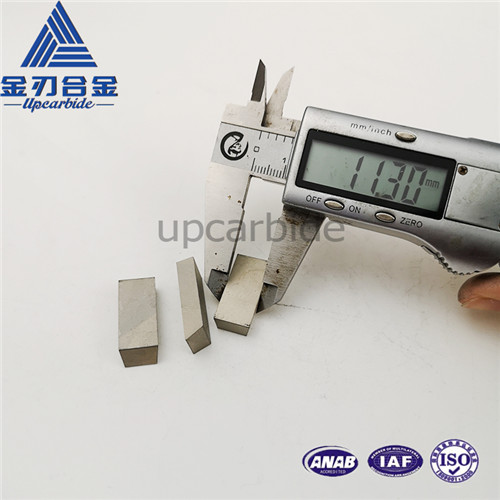 Grades choosing
Grade
Density
(g/cm³)
T.R.S
(Mpa)
Hardness
HRA
Equivalent to ISO
YG6

14.8

>=2150

>=90.0

K20

YG6X

14.9

>=1860

>=92.0

K10

YG8

14.8

>=2320

>=89.5

K30

YS2T

14.6

>=2350

>=92.0

M10

YS25

13.8

>=2200

>=91.0

P25

YL10.2

14.5

>=2150

>=92.2

/
Other grades and sizes can be offered as per customers' requirements
Type number and sizes :
Type number
sizes(mm)
L(Length)
T(Thickness)
W(Width)

UP2504-9.3

25

4

9.3

UP2504-13.3

25

4

13.3

UP2505-17

25

5

17

UP2507-12

25

7

12

UP2507-17.5

25

7

17.5

UP2510-15

25

10

15

UP2507-22.5

25

7

22.5

UP2509-29

25

9

29

UP2514-17

25

14

17

UP2505-13.3

25

5

13.3

UP2507-13

25

7

13

UP2508-13.3

25

8

13.3

UP2508-17.3

25

8

17.3

UP2555-20.3

25

5.5

20.3

UP2508-20.3

25

8

20.3

UP2506-22.3

25

6

22.3

UP2508-22.3

25

8

22.3

UP2505-9.3

25

5

9.3

UP2506-9.3

25

6

9.3

UP2506-13.3

25

6

13.3

UP2804-9.3

28

4

9.3

UP2804-13.3

28

4

13.3

UP2804-17.3

28

4

17.3

UP2805-9.5

28

5

9.5

UP2805-10.5

28

5

10.5

UP2805-13.3

28

5

13.3

UP2805-17.3

28

5

17.3
contact person:
Ivy Yang(sales manager)
Phone +0086 18107334899 / +0086 13974176630
Tel +0086 0731-22160466
fax +0086 0731 22160196
emial: sales@upcarbide.com
ivy@upcarbide.com
skype: ivyyang316 whatsApp ID:0086 18107334899 QQ ID:2498362811 Wechat ID: ivy-yangjuan