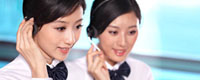 Name: Ivy Yang
Tel: +86 0731 22160466
Fax: +86 0731 22160196
Mobile: +86 18107334899
E-mail: sales@upcarbide.com
E-mail: ivy@upcarbide.com
Add: No.849,Hongqi North Road,ShiFeng District,Zhuzhou City,Hunan Province,China. post code 412000
Skype: ivyyang316
MSN: yangjuan316@hotmail.com
QQ: 2498362811






Product name : 200 hours water cutting life tungsten carbide spraying nozzle tips,blasting nozzle,water jet nozzle

Product No. : 201672810730
Details:
tungsten carbide water-jet nozzle,also name tungsten carbide water cutting,tungsten carbide sand tube.it is mainly using to cutting metal,
ceramic,stone,glass or other materials.
1.100% fresh material,we also coating tantalum tin for higher wear resistance.
2. the common sizes are Φ6.35,Φ7.14,Φ7.6,Φ9.45 ect.
3. long life,the hardness up to 96.5HRa,execellent wear resistance.
4. also product according your sizes.
tungsten cabride water-jet nozzle's spcifications
:
Use superfine nanometer tungsten carbide particles, the wear-resisting performance to the next level, superior
wear resistance makes it far beyond the ordinary tungsten carbide,
The service life of the nozzle.
Cobalt content
of less than 0.6%, density of 15.45 g/cm3 ~ 15.6 g/cm3, bending 2000 mpa to 2400
MPa.
Super oxygen resistance,
small thermal expansion coefficient, unique high hardness and density, far beyond the other similar products, the
use of hard
Alloy tube abrasion resistance stronger.
Sand tube due to high-speed abrasive particle erosion, its selection is very important.
Sand tube material, in general,
must have high hardness, high resistance
Grinding, both be short of one cannot.
Generally for tungsten carbide
composite materials processing.
Usually, cemented carbide, WC as the main resistance,
Grinding phase exists in the
form of particles, CO, just as the binder.

Use: widely used in various types machine, WHP type, FLOW type, type JET, KMT, OMAX type, type WS.

tungsten carbide water-jet nozzle's photos: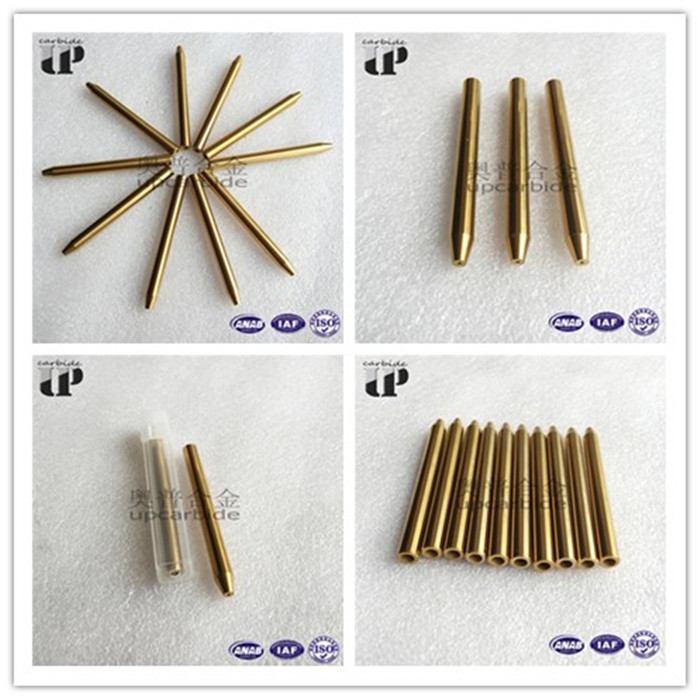 tungsten carbide water-jet nozzle's common sizes:



| | | | | |
| --- | --- | --- | --- | --- |
| | Φd1(mm) | L(mm) | θ゜ | a゜ |
| 6 | 0.76 | 76.2 | 40 | 28 |
| 6 | 1.02 | 76.2 | 40 | 28 |
| 6.35 | 0.5 | 76.2 | 40 | 28 |
| 6.35 | 0.76 | 76.2 | 40 | 28 |
| 6.35 | 1.02 | 76.2 | 40 | 28 |
| 7.14 | 0.76 | 76.2 | 40 | 28 |
| 7.14 | 1.02 | 76.2 | 40 | 28 |
| 7.6 | 0.76 | 76.2 | 40 | 28 |
| 7.6 | 1.02 | 76.2 | 40 | 28 |
| 9.45 | 0.76 | 76.2 | 40 | 28 |
| 9.45 | 1.02 | 76.2 | 40 | 28 |


tungsten carbide water-jet nozzle's applications:



1. Refers to the high pressure abrasive water jet machine tool jet exit is used as the abrasive nozzle is mixed withwater.
Because of its internal Jet conditions are harsh, the abrasive wear was accelerated after the sand inside the tube is
very large, so need to use very wear-resisting material.Materials for manufacturing, sand tube structure is very simple, basically consists of two sections, and a cone entrance and columnar exports.Due to the different USES its size slightly difference.

2. The use of ultra-high pressure technology can turn ordinary tap water pressure to 250 ~ 400 mpa pressure, and then
through the inner hole diameter to 0.15 ~ 0.35 mm ruby nozzle spray forming speed is about 800 ~ 1000 m/s high speed
jet, commonly known as it is Water arrows, if arrow has the very high energy, can be used to cut soft materials.If we add
right amount ground in water arrows Material can be used to cut almost all hard and soft materials.Adjust the water jet pressure and flow, can use its various cleaning objects, such as glue, paint, rust removal, etc., we can also use for high pressure sterilization of ultra-high pressure technology, food preservation, etc Many beneficial to human work.

3. The nozzle and sand tube not to cause the premature wear of pipe, in order to prolong the service life of the sand tube,
before use, first with sand tube with water, ensure that the water in the center position.Rotary sand tube will increase
to 120 degree of wear and tear.Should pay attention to the following three questions:
(1) the gem (diamond) have tube to the nozzle from the sand.
(2) check whether there is new gems (diamond) nozzle hole.
(3) the room appear mixed sand abrasion.
If there is no on the jet, jet will directly impact the tube wall, led to the decrease of the cutting speed, at the same time,
sand tube service life will be dramatically reduced.Normal sand tube wear an from inlet to outlet of centripetal and
continuous wave wear trace.



company photos:





Zhuzhou Up Cemented Carbide Co.,Ltd services:
1.more than 10 years manufacture experience in tungsten carbide
2.Implement strict quality testing and control procedure to make superior quality. (ISO9001)
3.we can accept all kinds of international payment.(L/C, D/A,D/P,T/T, Paypal,western union,money gram, etc.)
4.we can accept all trade terms
5.Reply your inquiry within 10 hours
6.We are professional factory, so our price is lower than others
7.Professional sales person
8.Perfect Oral English communication service

our factory specializes in manufacturing a series of Tungsten Carbide products.such as:

tungsten carbide Saw Tips
tungsten carbide Buttons for Rock Bits

tungsten carbide Inserts for Road Milling, Plaing Bits

tungsten Carbide Inserts for Coal Cutter Picks

tungsten Carbide Inserts for Snopw Plow Blades

tungsten Carbide Inserts for Mining Tools

tungsten Carbide finished or blank Round Rods (dia from 1.0 to 25.4 mm,length 1.0 to 330mm)

tungsten Carbide Tubes

tunsgten Carbide Rings

tungsten Carbide strips and plates

tunsgten Carbide tips for Debarking Bits

tungsten Carbide Brazed Inserts or Tips

tunsgten Carbide pins

Tire studs

tunsgten Carbide Blanks

tunsgten Carbide Wear-Parts

tungsten carbide circular cutter

alloy welding material,etc.



contact person:

ivy yang (sales manager)


Phone +0086 18107334899 / +0086 13974176630
Tel +0086 0731-22160196


fax +0086 0731 22160196

emial: sales@upcarbide.com
ivy@upcarbide.com

skype: ivyyang316 whatsApp ID:0086 18107334899 QQ ID:2498362811 Wechat ID: 18107334899