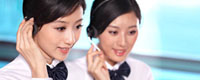 Name: Ivy Yang
Tel: +86 0731 22160466
Fax: +86 0731 22160196
Mobile: +86 18107334899
E-mail: sales@upcarbide.com
E-mail: ivy@upcarbide.com
Add: No.849,Hongqi North Road,ShiFeng District,Zhuzhou City,Hunan Province,China. post code 412000
Skype: ivyyang316
MSN: yangjuan316@hotmail.com
QQ: 2498362811






Product name : Ruby nozzle

Product No. : 201585172320
Details:
Ruby
nozzle, also called diamond nozzle, ruby water jet cutting nozzle, mainly used in high pressure
1. Model: ID0.35 OD12.5 * 6.5 mm.
2. 12.5 planar appearance, spray and white heart of hearts, brass inserts.
3. The inner hole size: 0.25 mm, 0.28 mm, 0.30 mm, 0.35 mm and 0.5 mm.
4. Height specification: 6.5 mm.
5. Color appearance: polished stainless steel type.
6. Use scope: widely used in various domestic water knife model and various kinds of imported models, FLOW
type,type JET, KMT type, type OMAX, WSI type.

Ruby
nozzle
'
s photos: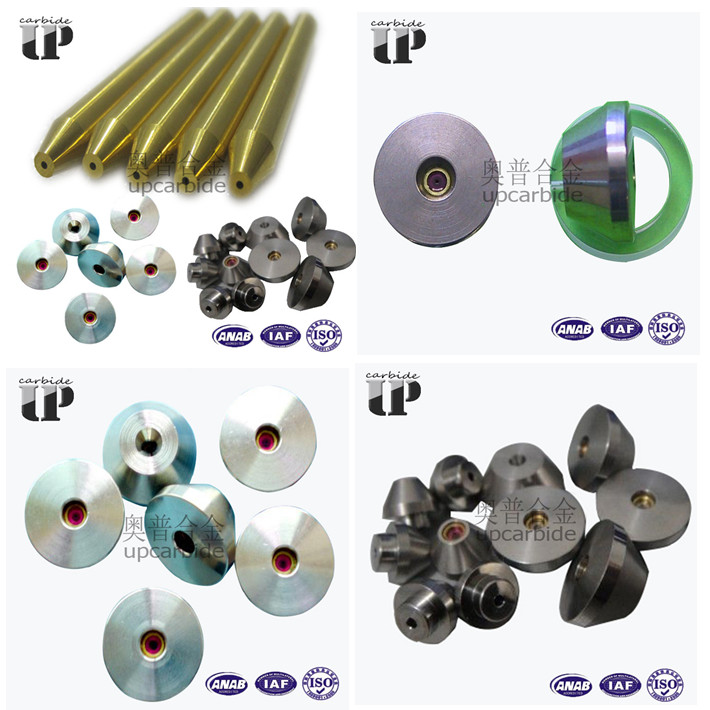 Ruby
nozzle
s usage:
At present, high pressure cleaner is widely used in the field of various industries in our country has gradually,
and showed a trend of gradually expanding, high pressure spray nozzle is the important parts.
Application of
high pressurecleaner for one of the key factors of high energy utilization, the quality of high pressure water
jet cleaning has obviouseffect.
Through the experiment, such as
Fruit large gem flat nozzle of poor quality or
wear resistance is not enough, will cause the deterioration of the quality of high pressure water jet, eventually
led to the most wasted power equipment.

1. Ruby nozzle, the nozzle for early general spurt the code machine, the nozzle is in stainless steel cylindrical
packed into a diameter of about 2 mm,
There is a 30-80 microns in diameter hole.
2. Stainless steel nozzle now most manufacturers are applied, stainless steel nozzle is about 5 mm in diameter
by a 1 mm thick stainless steel wafer, through on it,
Laser burn out a diameter of about 30-80 - mm hole.

Comparison of two kinds of nozzle nozzle:
1. The craft ruby nozzle in the process of production, gem is easy to crush, is more complex.
Stainless steel
spurt the code machine is relatively simple, as long as with a laser
Punch in stainless steel.

2. The finish ruby nozzle bright and clean degree is higher, there is no burr.
Stainless steel nozzle with laser
burnt, burr is more commonly, not smooth.
Don't
By grinding, finish also can reach the level of ruby nozzle.
3. The adjustment of the breakpoint ruby nozzle as gems piece and shock spacing is not fixed (determined
by the strength of extrusion process of gem in the depth of the stainless steel outer circle).
Bring up a good
break up more troublesome.
Basically, as long as the grinding stainless steel nozzle due to the thickness of
the consistent is better,it is easy to break out of the good points.
4. The cost comparison, ruby nozzle much more than the price of stainless steel nozzle.

The happening of the nozzle is a fluid jet element, its function is not only the high pressure pump supercharger
provides the static pressure of fire into the dynamic pressure of water, and shall ensure that water jet,
It has
excellent flow characteristics and dynamic characteristics.
Second, the nozzle and cleaning descaling actuators,
its transmission power affect the cleaning effect, thus,
The role of nozzle in high pressure cleaner overall is very
important.


Zhuzhou Up Cemented Carbide Co.,Ltd services:
1.more than 10 years manufacture experience in tungsten carbide
2.Implement strict quality testing and control procedure to make superior quality. (ISO9001)
3.we can accept all kinds of international payment.(L/C, D/A,D/P,T/T, Paypal,western union,money gram, etc.)
4.we can accept all trade terms
5.Reply your inquiry within 10 hours
6.We are professional factory, so our price is lower than others
7.Professional sales person
8.Perfect Oral English communication service
our factory specializes in manufacturing a series of Tungsten Carbide products.such as:
tungsten carbide Saw Tips
tungsten carbide Buttons for Rock Bits
tungsten carbide Inserts for Road Milling, Plaing Bits
tungsten Carbide Inserts for Coal Cutter Picks
tungsten Carbide Inserts for Snopw Plow Blades
tungsten Carbide Inserts for Mining Tools
tungsten Carbide finished or blank Round Rods (dia from 1.0 to 25.4 mm,length 1.0 to 330mm)
tungsten Carbide Tubes
tunsgten Carbide Rings
tungsten Carbide strips and plates
tunsgten Carbide tips for Debarking Bits
tungsten Carbide Brazed Inserts or Tips
tunsgten Carbide pins
Tire studs
tunsgten Carbide Blanks
tunsgten Carbide Wear-Parts
tungsten carbide circular cutter
alloy welding material,etc.



contact person:
ivy yang (sales manager)

Phone +0086 18107334899 / +0086 13974176630
Tel +0086 0731-22160196

fax +0086 0731 22160196
emial: sales@upcarbide.com
ivy@upcarbide.com
skype: ivyyang316 whatsApp ID:0086 18107334899 QQ ID:2498362811 Wechat ID: 18107334899