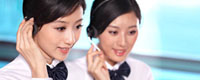 Name: Ivy Yang
Tel: +86 0731 22160466
Fax: +86 0731 22160196
Mobile: +86 18107334899
E-mail: sales@upcarbide.com
E-mail: ivy@upcarbide.com
Add: No.849,Hongqi North Road,ShiFeng District,Zhuzhou City,Hunan Province,China. post code 412000
Skype: ivyyang316
MSN: yangjuan316@hotmail.com
QQ: 2498362811






Product name : YBC301 SEET12T3-DR tungsten carbide CNC insert

Product No. : YBC301 SEET12T3-DR
Details:
YBC301 SEET12T3-DR tungsten carbide CNC insert


1.the common shapes of inserts:the trilateral, quadrilateral, pentagon, convex trilateral, circular and diamond ect
2.Inscribed circle diameter of the insert profile is the basic parameters of the blade,the sizes are 5.56、6.35、9.52、
12.70、15.88、19.05、25.4 …mm.
3.the common grade of tolerance have three kinds,such as the G、M、U.can choose according the usage.
4.Various shapes of the blade has a center with hole or without hole;Have not bring the Angle or with different Angle;
Have not bring of chip breaker groove, too one side or two sides of chip breaker groove.
tungsten carbide CNC inserts' photos: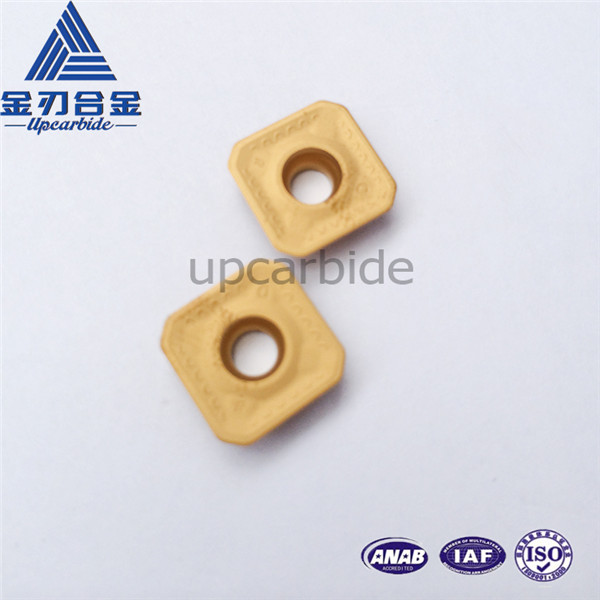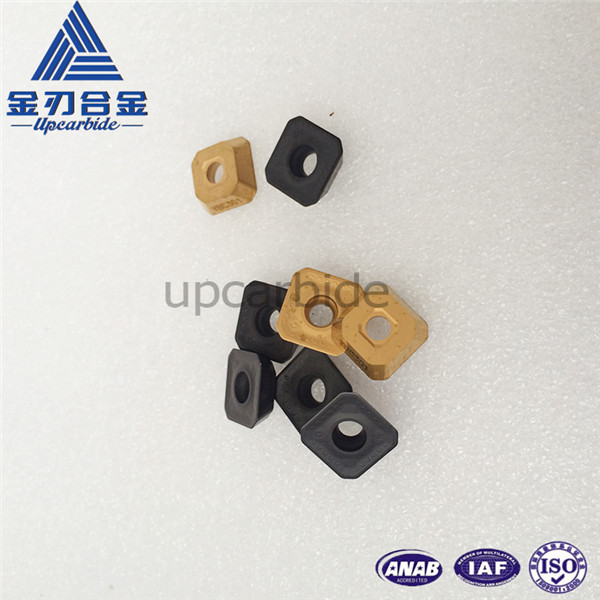 cemented carbide CNC inserts' Type and sizes: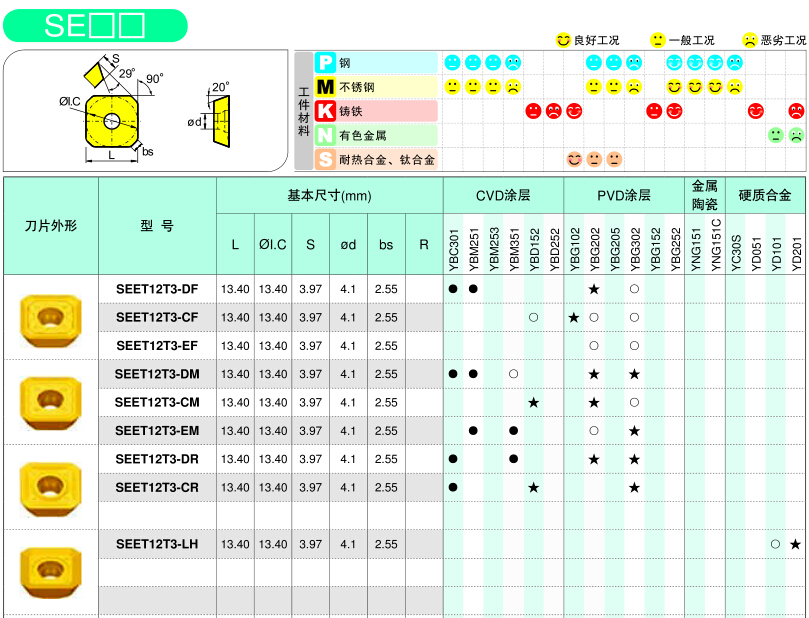 cemented carbide CNC inserts' grades and usage:
YBC151
High wear resistance insert with coating,such as MT-TICN、thick AL2O3 and TIN;Suitable for steel finishing.
YBC251
Blade security good toughness matrix in MT - TICN, thick AL2O3, excellent combination of TIN coating;Is suitable
for semi-finishing steel.
YBC351
In the high strength plastic substrate resistance and MT - TICN, thick AL2O3, TIN coating combination;Has good
toughness and plasticity deformation, suitable for steel The rough machining.
YBD151
High wear resistance matrix and MT - TI (CN), thick excellent combination, AL2O3, and TIN coating is suitable for
finishing and semi-finishing of cast iron materials.
YBM151
Special organization structure matrix combined with thin TICN, AL2O3, TIN coating, has a good impact resistance
and resistance to plastic deformation ability, at the same time Good shock resistance, suitable for the finishing,
semi-finishing and roughing of stainless steel.
YBM251
TICN substrate from good toughness and strength, thin, AL2O3, and TIN coating is suitable for semi-finishing and
roughing of stainless steel.
YBM253
Stainless steel efficient processing CVD new brands, which are widely used in big cut deep into to efficient processing
field.To adopt advanced technology of ultrafine grain nanostructured coating,Gradient alloy substrate with high toughness,
excellent performance, in the big cutting depth, feed, high speed cutting process has excellent cutting performance.
YBC152
Thick thick TICN and AL2O3 coating, the impact toughness increase at the same time, the wear resistance has increased
significantly, is processed to semi-finishing steel high-speed cutting The ideal choice of the cutting.Cutting speed can be
increased by more than 25%, under the same cutting speed and tool life can be improved by more than 30%.
YBC252
Adopts thick TICN and AL2O3 coating thick, strong ability to resist plastic deformation and the blade intensity, is closed
from finishing to rough machining of steel Choose brand.Under the high removal rate cutting parameters or harsh working
conditions has stable performance, and can achieve more green dry cutting.cut Cutting speed can be increased by more
than 25%, under the same cutting speed and tool life can be improved by more than 30%.
cemented carbide CNC inserts' advantages:
Indexable tool with brazing and other mechanical clamp solid compared to the cutting tool has the following advantages:
(1) to avoid the hard alloy brazing prone to crack faults;
(2) indexable insert suitable for gas phase deposition on cemented carbide blade surface thin layer and hard materials
(titanium carbide, titanium nitride And alumina), in order to improve the cutting performance;
(3) time is shorter in the edge of the sword;
(4) because of the indexable insert is standardized and centralized production, blade geometry parameters is easy to
be consistent, stable chip control.
Indexable tool application range is very wide, including all kinds of turning tool, boring tool, milling cutter, broach outer
surface, large diameter deep hole drilling and nesting drill, etc.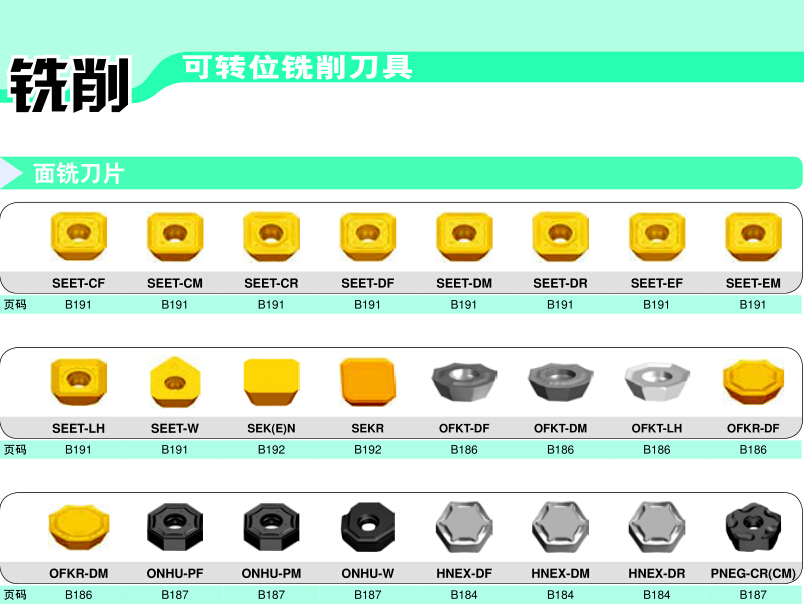 Zhuzhou Up Cemented Carbide Co.,Ltd services:
1.more than 10 years manufacture experience in tungsten carbide
2.Implement strict quality testing and control procedure to make superior quality. (ISO9001)
3.we can accept all kinds of international payment.(L/C, D/A,D/P,T/T, Paypal,western union,money gram, etc.)
4.we can accept all trade terms
5.Reply your inquiry within 10 hours
6.We are professional factory, so our price is lower than others
7.Professional sales person
8.Perfect Oral English communication service
our factory specializes in manufacturing a series of Tungsten Carbide products.such as:
tungsten carbide Saw Tips
tungsten carbide Buttons for Rock Bits
tungsten carbide Inserts for Road Milling, Plaing Bits
tungsten Carbide Inserts for Coal Cutter Picks
tungsten Carbide Inserts for Snopw Plow Blades
tungsten Carbide Inserts for Mining Tools
tungsten Carbide finished or blank Round Rods (dia from 1.0 to 25.4 mm,length 1.0 to 330mm)
tungsten Carbide Tubes
tunsgten Carbide Rings
tungsten Carbide strips and plates
tunsgten Carbide tips for Debarking Bits
tungsten Carbide Brazed Inserts or Tips
tunsgten Carbide pins
Tire studs
tunsgten Carbide Blanks
tunsgten Carbide Wear-Parts
tungsten carbide circular cutter
alloy welding material,etc.



contact person:
ivy yang (sales manager)

Phone +0086 18107334899 / +0086 13974176630
Tel +0086 0731-22160196

fax +0086 0731 22160196
emial: sales@upcarbide.com
ivy@upcarbide.com
skype: ivyyang316 whatsApp ID:0086 18107334899 QQ ID:2498362811 Wechat ID: 18107334899